April 14 is a day of celebration for several South Asian ethnic communities.
It is the new year for the Tamil, Malayalee and Bengali community.
However, because of the Covid-19 outbreak, celebrations may not be as festive as in previous years, especially for the foreign workers in Singapore who can't return home to celebrate with their families.
Encouraging video from Rajinikanth
To tide them through this trying time, popular Tamil Superstar Rajinikanth posted a video for foreign workers in Singapore to share words of encouragement.
To give an idea of how popular Rajinikanth is to the South Asian ethnic communities, he has over 40 years of experience as an actor, and has appeared in more than 100 movies, including Tamil and Bollywood films.
He is also fondly known as "Superstar Rajinikanth" and "Thalaivar" (Tamil for leader) by his fans.
In the video, he said:
"To Tamil folks living overseas, I wish that this new year be a joyous one. The whole world is affected by the coronavirus, whether it's India or Tamil Nadu. Your loved ones who live apart from you are thinking about you all the time and are worried for you.

Whichever country you live in, please abide closely by the rules set by that country's government to protect yourself. This is the biggest gift you can give to your loved ones this year. I wish you good health and don't worry, this too shall pass."
Request from S Iswaran
The Covid-19 message by Rajinikanth was apparently requested by Minister for Communications and Information, S Iswaran.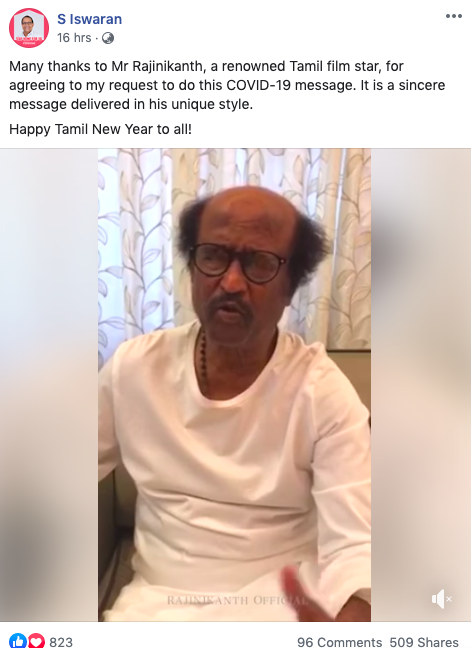 Screenshot from S Iswaran's Facebook page.
In a Facebook post, he said:
"Many thanks to Mr Rajinikanth, a renowned Tamil film star, for agreeing to my request to do this COVID-19 message. It is a sincere message delivered in his unique style.

Happy Tamil New Year to all!"
In a separate greeting video, he thanked the foreign workers in Singapore for all that they have done and for their contributions to "Singapore's development and growth".